LARGE CAPACITY AND THERMOMETRIC TECHNOLOGY IN ONE ADVANCED UNIT
When you combine a massive 16,500 lb. pulling capacity with industry-leading technology, you get the WARN 16.5ti. With enough muscle to recover the biggest trucks and SUVs, and thermometric technology that provides advanced operator feedback, the 16.5ti is a superior hybrid of brawn and brains.
This winch's rugged nature also includes extreme sealing, fast line speeds, lower amp draw, an aluminum solenoid housing cover, and 90′ of 7/16″ aircraft-grade wire rope.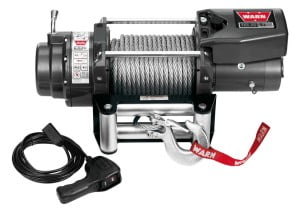 16.5ti SPECS/PART NUMBERS
Part Number: PN 68801 CE (12V DC)
Rated Line Pull: 16500 lbs. (7484 kgs.) single-line
Motor: 12V 4.6 hp, Gen II, Series Wound
Remote Control: Remote, 12′ (3.7m) lead, thermometric indicator, S2 elements, integrated flashlight
Geartrain: 3-Stage Planetary
Gear Ratio: 315:1
Lubrication: Molybue: #1 or Aeroshell #17
Weight: 138 lbs. (63 kgs.)
Clutch (freespooling): Rotating Ring Gear
Brake: Automatic Direct Drive Cone
Wire Rope: 90′, 7/16″ diameter (27m, 11mm diam.)
Fairlead: Roller
Recommended Battery: 650 CCA minimum for winching
Battery Leads: 2 gauge, 72″ (1.83m)
Finish: Chromate with high-gloss dark gray powder coat
Drum Diameter/Length: 3.5″/8.2″ (9cm/21cm)
12V DC PERFORMANCE SPECS
Line PullLbs.(Kgs.)
Line SpeedFT./min(M/min.)
MotorCurrent
Pull by layerlayer/Lbs(Kgs.)
0
23.6(7.20)
68 amps
1/16500(7484)
2000(907)
12.07(3.68)
138 amps
2/15279(6930)
4000(1814)
9.22(2.81)
189 amps
3/12672(5748)
6000(2721)
7.37(2.25)
240 amps
4/10824(4910)
8000(3628)
6.08(1.85)
291 amps
10000(4536)
5.12(1.56)
342 amps
12000(5443)
4.40(1.34)
393 amps
14000(6350)
3.86(1.18)
444 amps
16000(7257)
3.38(1.03)
494 amps
16500(7484)
3.24(0.99)
507 amps
Winch Dimensions: 24.7″ L. x 8.5″ D. x 9.7″ H.
(628mm L. x 216mm D. x 247mm H.)
Mounting Bolt Pattern: 10.0″ x 4.5″ (254mm x 114.3mm)