M15000 SELF-RECOVERY WINCH
15,000 LBS. OF PULLING MUSCLE IN A COMPACT PACKAGE
When you own a big truck, you need the pulling power to get that truck out of tough situations and the M15000 does just that. The M15000 features high-strength carrier plates to handle the stresses of pulling a 15,000 lb. load, a smooth and durable 3-stage planetary geartrain, and 90′ of 7/16″ wire rope equipped with a large hook with clasp. The control pack is designed for plenty of clearance and ease of access.

M15000 SPECS/PART NUMBERS
Part Numbers: PN 47801 CE (12V DC), PN 478022 CE (24V DC)
Rated Line Pull: 15000 lbs. (6804 kgs.) single-line
Motor: 12V 4.6 hp, 24V 2.5 hp Series WoundTM
Remote Control: Remote, 12′ (3.7m) lead
Geartrain: 3-Stage Planetary
Gear Ratio: 315:1
Lubrication: Molylube #1 or Aeroshell #17
Clutch (freespooling): Rotating Ring Gear
Brake: Automatic Direct Drive Cone
Drum Diameter/Length: 3.5″/8.2″ (9cm/21cm)
Weight: 136lbs. (62kgs.)
Wire Rope: 90′, 7/16″ diameter (27m, 11mm diam.)
Fairlead: Roller
Recommended Battery: 650 CCA minimum for winching
Battery Leads: 2 gauge, 72″ (1.83m)
Finish: Argent Gray Powder Coat
Nuts/Bolts: PN 61946
CE Winches: CE products are designed to meet European Standards. CE winches include CE labels, manuals, roller fairlead and safety hook.
12V DC PERFORMANCE SPECS
Line Pull

Lbs.(Kgs.)

Line Speed

FT./min(M/min.)

Motor

Current

Pull by layer

layer/Lbs(Kgs.)

0
22.2(6.77)
67 amps
1/15000(6804)
2000(910)
7.27(2.22)
135 amps
2/13890(6300)
4000(1810)
5.41(1.65)
185 amps
3/11520(5225)
6000(2720)
4.43(1.35)
235 amps
4/9840(4463)
8000(3630)
3.79(1.16)
285 amps
10000(4540)
3.31(1.01)
335 amps
12000(5440)
2.93(.893)
385 amps
14000(6350)
2.61(.796)
435 amps
15000(6800)
2.48(.756)
460 amps
24V DC PERFORMANCE SPECS
Line Pull

Lbs.(Kgs.)

Line Speed

FT./min(M/min.)

Motor

Current

Pull by layer

layer/Lbs(Kgs.)

0
28(8.6)
24 amps
1/15000(6800)
2200(1000)
10.2(3.1)
85 amps
2/13900(6300)
4400(2000)
7.5(2.3)
115 amps
3/11400(5200)
6600(3000)
6.9(2.1)
142 amps
4/9700(4400)
8800(4000)
6.6(2.0)
170 amps
11000(5000)
6.2(1.9)
190 amps
13200(6000)
5.2(1.6)
210 amps
15000(6800)
4.3(1.3)
235 amps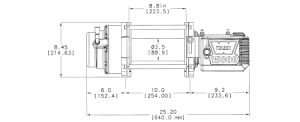 Winch Dimensions: 25.2″ L. x 8.5″ D. x 11″ H.
(556mm L. x 215mm D. x 279mm H.)
Mounting Bolt Pattern: 10.0″ x 4.5″ (254mm x 114.3mm)