[twocol_one]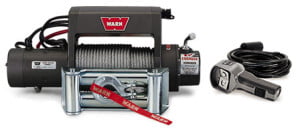 [/twocol_one] [twocol_one_last]
XD9000i SELF-RECOVERY WINCH
RELIABLE, PROVEN DESIGNS FOR REAL-WORLD CONDITIONS
As a long-time favorite, you'll see more of these winches mounted on vehicles than any other. Quick no-load line speeds, durable and reliable 3-stage planetary geartrains, and low current draw for long duty cycles have made these durable units staples of the WARN lineup for years.
The XD9000i features an integrated control pack and an all-metal housing for additional protection to the electrical components.
[/twocol_one_last]
[divider]
XD9000i SPECS/PART NUMBERS
[twocol_one]
[unordered_list style="tick"]
Part Number: PN 27550 CE (12V DC)
Rated Line Pull: 9000 lbs. (4080 kgs.) single-line
Motor: 12V 4.6 hp, 24V 2.5 hp, Series WoundTM
Remote Control: Remote, 12′ (3.7m) lead
Geartrain: 3-Stage Planetary
Gear Ratio: 156:1
Lubrication: Aeroshell #17
Drum Diameter/Length: 2.5″/9.0″ (6.4cm/23cm)
Nuts/Bolts: PN 39570
[/unordered_list][/twocol_one] [twocol_one_last]
[unordered_list style="tick"]
Place your list items here
Clutch (freespooling): Sliding Ring Gear
Brake: Automatic Direct Drive Cone
Weight: 85 lbs. (38.5 kgs.)
Wire Rope: 125′, 5/16″ diameter (38m, 8mm diameter)
Fairlead: Roller
Recommended Battery: 650 CCA minimum for winching
Battery Leads: 2 gauge, 72″ (1.83m)
Finish: Argent Powder Coat
CE Winches: CE products are designed to meet European Standards. CE winches include CE labels, Manuals, Safety Hook and Thimble.
[/unordered_list]
[/twocol_one_last]
[divider]
12V DC PERFORMANCE SPECS
Line PullLbs.(Kgs.)
Line SpeedFT./min(M/min.)
MotorCurrent
Pull by layerlayer/Lbs(Kgs.)
0
38(11.6)
70 amps
1/9000(4082)
2000(910)
14.4(4.39)
180 amps
2/8190(3715)
4000(1810)
11(3.35)
255 amps
3/7500(3402)
6000(2720)
8.67(2.64)
330 amps
4/7010(3180)
8000(3630)
6.88(2.10)
415 amps
5/6570(2980)
9000(4080)
6.38(1.94)
460 amps
[divider]
[unordered_list style="green-dot"]
Winch Dimensions: 21.8″ L. x 6.3″ D. x 9.94″ H.
(553mm L. x 160mm D. x 252mm H.)
Mounting Bolt Pattern: 10.0″ x 4.5″ (254mm x 114.3mm)
[/unordered_list]